Cone Collector's Guide:  Recommended books for the Cone Collector
Major new cone book; A Taxonomic Iconography of Living Conidae produced by fellow collectors MONNIER, E., LIMPALAER, L., ROBIN, A. & ROUX, C. (2018).  The main purpose of this book is to present all the recent species considered as valid. The species concept is based on shell as well as radular morphologies, developmental mode, molecular characters, geographical ranges and ecology.  Available in two volumes (www.conchbooks.de), with 1208 pages illustrated with almost 6700 specimens that represent more than one thousand species and subspecies some of which still pending description. Available mid May 2018.
| | | |
| --- | --- | --- |
| <![if !vml]><![endif]> | <![if !vml]><![endif]> | <![if !vml]><![endif]> |
Several  publications provide an excellent source of information to assist with the identification of Cone specimens.  The Iconography series published between 2004 and 2012 by Conch Books has volumes for 3 different marine regions with summary descriptions, key indicators for identification and many outstanding illustrative plates with pictures of the differing forms of each species.
<![if !vml]><![endif]>

<![if !vml]><![endif]>

<![if !vml]><![endif]>

West Africa and

Cape Verde Is.

South Africa

Eastern Pacific
These publications can be obtained from Conch Books who publish this series and offer as distributor many other Conchological publications : Link ConchBooks
We await with interest other Iconography cone publications planned for the Cone Family.
The Indo-Pacific region was covered in a milestone publication in 1995 by Röckel, Korn and Kohn. Unfortunately, this publication is out of print but copies can still occasionally be obtained.
Another milestone publication was Cone Shells: A synopsis of the Living Conidae by Jerry G. Walls in 1979 covering Cones on a worldwide basis. Although some elements would be now debated in terms of today's knowledge, it still represents a good overall view. Again out of print.
We should not forget to mention Mike Filmer's great work on Conus taxonomy. Here on the TCC website there is a digital version of the sequel 2011 publication. The original book version is out of print.
| | | |
| --- | --- | --- |
| <![if !vml]><![endif]> | <![if !vml]><![endif]> | <![if !vml]><![endif]> |
<![if !vml]>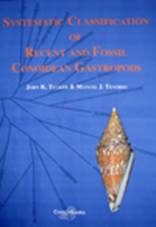 <![endif]>
Sytematic Classification of Recent and Fossil Conoidean Gastropods.
 A recent publication by Tucker and Tenorio concentrates on the grouping of cones into genus, family etc. based on the shell features and radular morphology.  Their proposed schema is being adopted by many authors and will be refined as more data becomes available from radular and DNA studies.
<![if !vml]>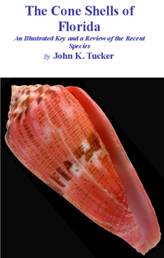 <![endif]>The Cone Shells of Florida by John Tucker, 2013 Published by MDMShellBooks
This is a fully illustrated guide to the marine Mollusks in the families Conidae and Conolithidae found in the waters off Florida from the shoreline to the continental shelf. It is a clear and concise guide with well written descriptions that include a listing of the numerous synonyms for these shells and color photographs of usually several specimens of each species. Additionally there is an illustrated step by step key to narrow down the identification of each of these shells. In all, there are thirty species (including one new species) in the book and three subspecies.
<![if !vml]>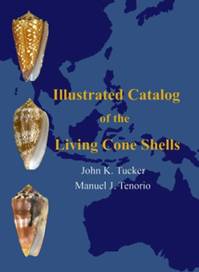 <![endif]>Illustrated Catalog of the Living Cone Shells  by John K. Tucker & Manolo Tenorio
This book features very sharp and clear high resolution photos of all  cone species recognized as valid by the authors as well as a complete review as to the taxonomic placement for these shells. Also listed in the text and in an extensive index are the names and placement of taxa that are not considered to be valid.
<![if !vml]>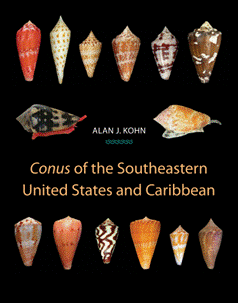 <![endif]>Conus of the Southeastern United States and Caribbean by Alan J. Kohn
Introductory chapters cover the evolution and phylogeny of the genus, and notes on methodology are provided. Detailed species accounts describe key identification features, taxonomy, distribution, ecology, toxicology, life history, and evolutionary relationships. The book includes more than 2,100 photos of shells on 109 splendid color plates; more than 100 additional photos, many depicting live animals in color; and 35 color distribution maps.
New Cone shells are described on a regular basis in the many specialist Conchological magazines
Those  illustrated below, regularly have cone articles and descriptions of new species:
| | | |
| --- | --- | --- |
| <![if !vml]><![endif]> | <![if !vml]><![endif]> | <![if !vml]><![endif]> |
| Visaya | Vita Malacologica | Malacologia |
| | |
| --- | --- |
| <![if !vml]><![endif]> | <![if !vml]><![endif]> |
| Acta Conchyliorum | Miscellanea Malacologica |
________________________________________________________
This page was last updated in May 2018. The contents of this website remain the copyright of Paul Kersten. Parts of the website may not published on any website other than  www.theConeCollector.com .