!************* Homepage Version 2.0 January 2015****************************>

<! **********Descriptions to help search engines********************************> <! **************Style sheet selection***************************************> <!**********************************************************************>
Cone Collector's Guide: Editor: Paul Kersten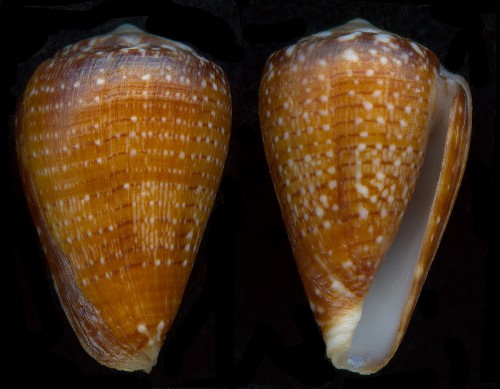 This website provides information for collectors on the group of shells known as Cones. More than 2000 taxon names of Cones have been described. The intent of the author is to provide useful descriptive information and pictures of the current names which are considered of interest to the collector. This edited set of collector names will include valid species, subspecies, unusual distinctive forms, colour forms etc. For each of the collector names, the intent is to provide sufficient information and pictures to assist in the identification of Cone specimens.
How to use the website
To view the information on a described name, please select on the left, the first letter of the taxon name and scan down the displayed page. You will find links to pictures of type specimens and others from private collections. Should you not find the name that you are seeking, a complete listing of all cone names indicating their validity and taxonomy will be found in the Filmer 2011 section with updates from 2013 in Whatsnew.
The main files of the website are updated on a regular basis. News items and significant changes since the last update can be found by using the What's New section of the website
Every effort has been made by the editor to respect copyright and image rights and to seek the appropriate approvals. The source of any text quoted from original descriptions or other publications is acknowledged. The editor wishes to thank the many members of the Cone community who have assisted and given their approvals. Acknowledgements and References can be viewed by clicking on the link provided.
The author has considered inputs on the current taxonomy. He does not seek to introduce new names or taxonomy assignments for the scientific record but will adjudicate and comment as necessary on any differing views in published materials. A discussion paragraph for each name will be used to add considered opinions and comments received from the cone community.
Should you have any queries or material which would improve the content of the website, you may contact the author at the E mail address below.
---
This website page was last updated in January 2015 <!*******************Start of Tail section **********************************> The contents of this website remain the copyright of Paul Kersten.Parts of the website may not published on any website other than www.theConeCollector.com Copyright of all images remains with the originator and may not be published without their expressed permission. Anyone wishing to obtain such approval should contact the Editor. Sections of text are quoted from the original scientific descriptions. Also text from other publications is available with the approval of the author or from internet sources.