TRAVEL INFORMATION – USEFUL DIRECTIONS
We would like to mention a few points related to the location of the museum and suggested hotel. You will find both marked in red in this map. This information is also available on The Cone Collector #28.
<![if !vml]>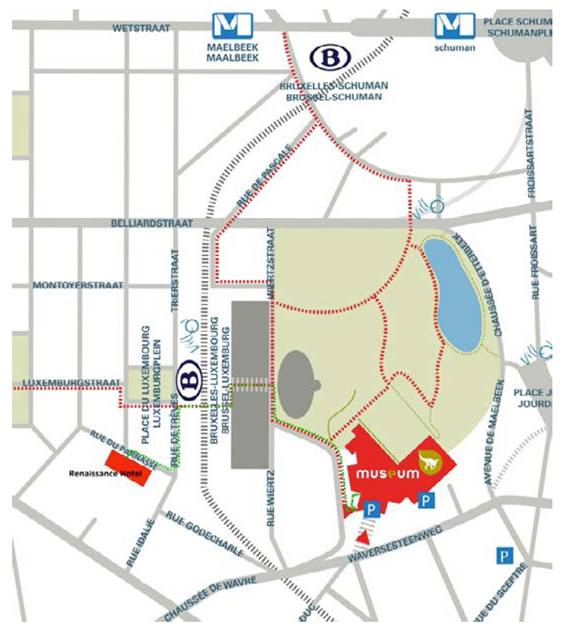 <![endif]>
As can be gathered from this map, the Renaissance Hotel is quite close to the Museum, within easy walking distance. Here is some relevant information:
Travel Information
Relevant addresses:
Renaissance Brussels Hotel
Rue du Parnasse 19
1050 Brussels
Front desk: +32 (0)2 5052929
All relevant information:
http://www.marriott.com/hotels/travel/brubr-renaissancebrussels-
Royal Belgian Institute for Natural Sciences
Rue Vautier 29
1000 Brussels
Reception: +32 (0)2 627 42 11 (on weekdays till
5PM)
Some of you will arrive by air into Brussels International Airport. For those of you not familiar with the airport and for the latest status of check in times, baggage checks, arrivals and departures can be found at http://www.brusselsairport.be/en/
Arriving into Belgium via air:
From the airport a number of options are available for you to get either to the hotel or the museum:
Pick up: if you are being picked up by friends or relatives, please have a look at the latest security arrangements at http://www.brusselsairport.be/en/passngr/to_from_brussels_airport/pickupdropoff/
Car rental: a number of major car rental companies operate on the airport such as Hertz, Avis and SIXT.
Reservations and further information can be found on their respective websites and are assembled here:
http://www.brusselsairport.be/en/passngr/to_from_brussels_airport/rental_car/
Taxi: Taxis with a taximeter are permanently available in front of the arrivals hall. The fare from the airport to the city center of Brussels is normally around € 45. Licensed
taxis can be recognized by the blue and yellow emblem. Travelers are advised to avoid unlicensed taxis!
Train: Up to 6 trains an hour connect the airport to Brussels North, Brussels Central and Brussels Midi stations. The following lines all pass through the 3 above mentioned stations:
Trains with final destinations Blankenberge/Knokke – Oostende – De Panne – Mons (Bergen)– Tournai (Doornik) – Gent-Sint-Pieters
Communtor trains stopping in Brussels North (Nord), Central and South (Midi)
The most efficient way to get to the 'European Quarter' area is to get off at Brussels North (Nord) and take a connecting train (direction Dinant or Ottignies or Arlon) to Brussels-Luxembourg station. This a separate substation directly beneath the 'European Quarter' within walking distance of the hotel and museum and takes only minutes from Brussels Nord to Luxembourg. Tickets can be bought at automated or manned counters,
or can be purchased online at b-rail.be or through the app. Please be advised to check the timetables at every station for any changes in stops or timing.
Arriving into Belgium via train:
All international trains arrive at Brussels South (Midi). These include trains from ICE, Thalys and Eurostar. The least complicated way to get to the event area is either by taxi or train. Taxis with a taximeter are permanently available at the entrance near the international desks. By train, we advise you to take anytrain direction Nord, and follow the instructions as mentioned above. Tickets can be bought at automated or manned counters, or can be purchased online at b-rail.be or through the app. On the website or with the app, you'll be able to schedule and follow your itinerary.
Arriving into Belgium by car:
Relevant addresses are listed above and should be sufficient for any satellite navigation system.
Finding parking space in the streets surrounding the hotel and museum and on the museum premises can be daunting. The hotel has on site parking available at 21 euro per day. Please let me know in advance if we need to reserve a space for your car. You can also let the hotel know directly or upon arrival.
Hotel and museum area
The distance between the two is about 1 km and a nice stroll on foot, which will take you through the European Parliament building/area. A local area map has been attached here.
The museum access area has and will be renovated. The old main entrance, behind the wooden Iguanodon, was closed for a while and a new side entrance was opened. This is or is due to change back: the old, now renovated, main entrance will be open again and the side access will be for exiting only. A security procedure is installed since a few months with metal detectors. The procedure for access to the museum and the event
will be sent to all registrants shortly before the actual event in order to give you the most recent information.
Each participant will receive a badge upon registration. It is necessary to keep this on your person and well visible at all times during your time in the museum. This way, museum staff and organizers will have an easy way of checking your access level and it will ensure a smooth event. This badge will also serve to identify you at the Saturday evening dinner and Sunday cone shell show.
We do hope to see as many of you as possible in Brussels next October. We will have a great meeting, just like in previous occasions.
Do register soon! That will really help us organize everything! All details concerning registration can be found in our website, by visiting the "Meetings" section (see at the top of the Homepage!).